Course Summary
This course is designed as an introduction to painting with watercolour. Students will develop confidence in mixing colour and basic watercolour painting techniques including laying washes, colour glazing and lifting out. Enjoy painting in a studio environment as you explore this expressive and interesting painting medium.
All Materials are supplied for this course.
Course Sessions
Saturday, 19th May - 1 class
19 May - 19 May
10:00pm - 4:00pm
Session Fees
$199 / $189 (conc)
Teacher
Eleni Rivers
Subjects covered included:
– Colour mixing
– Washes
– Transparent layering
– Dry brush technique
– Textures
– Masking techniques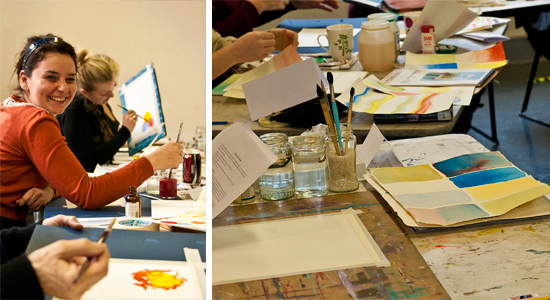 Students will create several small works experimenting with techniques that are discussed and demonstrated during the class.
This course is for complete beginners or students who have some experience of painting but who want to gain confidence in the medium of watercolour. Useful for people who are developing folio work or who are looking for a portable painting method to capture images of their travels in painterly form or for those who want to enjoy painting purely for relaxation.
Last updated: March 18, 2018 12:10am