Course Summary
This course is designed as an introduction to painting with watercolour. Students will develop confidence in mixing colour and basic watercolour painting techniques including laying washes, colour glazing and lifting out. Enjoy painting in a studio environment as you explore this expressive and interesting painting medium.
All Materials are supplied for this course.
Course Sessions
Monday, 12th November - 2 classes
12 Nov - 19 Nov
6:00pm - 8:30pm
Session Fees
$209 / $199 (conc)
Teacher
Louise Foletta
Saturday, 15th December - 1 class
15 Dec - 15 Dec
10:00am - 3:00pm
Session Fees
$199 / $190 (conc)
Teacher
Louise Foletta
Sunday, 20th January - 1 class
20 Jan - 20 Jan
10:00am - 3:00pm
Session Fees
$215 / $205 (conc)
Teacher
Eleni Rivers
Subjects covered included:
– Colour mixing
– Washes
– Transparent layering
– Dry brush technique
– Textures
– Masking techniques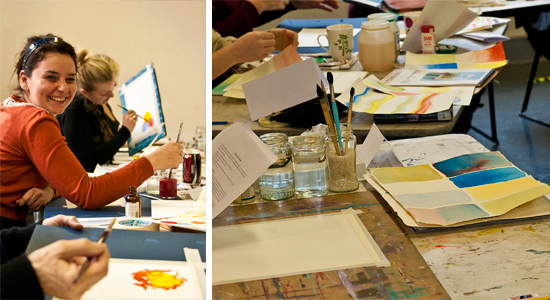 Students will create several small works experimenting with techniques that are discussed and demonstrated during the class.
Eleni Rivers
Eleni Rivers is a professional artist who has been teaching painting and drawing for over 25 years. She completed her MFA at JFK University in Berkeley, California in addition to holding several art degrees from colleges in Australia.
Eleni's paintings, drawings and illustrations have been exhibited and published in many countries and are held in collections both here and the US.
Now based in Melbourne, Eleni continues her journey in paint on themes of nature, family and belonging within the Australian landscape.
You can see examples of Eleni's work at www.elenirivers.com
This course is for complete beginners or students who have some experience of painting but who want to gain confidence in the medium of watercolour. Useful for people who are developing folio work or who are looking for a portable painting method to capture images of their travels in painterly form or for those who want to enjoy painting purely for relaxation.
Last updated: October 19, 2018 10:30am